Baked Bell-peppers with a Lemon-garlic sauce and sheep-cheese, Odessa-Style
Introduction:
Our restaurant invites you on an amazing culinary journey into the world of authentic flavors. One of our special dishes is Baked Peppers with Garlic Odessa-Style — a true fire in every bite. This dish will captivate your taste buds and gift you an unforgettable gastronomic experience.
Inspired by Odessa:
Baked peppers with garlic is a classic Odessa cuisine dish, infused with the inspiration of the sea and the warmth of the Black Sea coast. In our restaurant, we strive to preserve the authentic taste and aroma of this dish, brought to it by traditional Odessa recipes.
History:
The dish's history dates back to the 19th century when the Jewish community, which had a significant influence on Odessa's culture and cuisine, absorbed and enriched the culinary traditions of the region. In Odessa, peppers have always been a popular vegetable, used in various dishes. However, when this vegetable is baked with garlic, it takes on an entirely new, more rich and deep taste and aromatic quality. This recipe became a favorite among the old-timers of Odessa, and soon it was served in local restaurants and cafes. Baked peppers with garlic combines simple yet refined ingredients, giving the dish a unique taste. To create this dish, fresh peppers are baked in the oven until tender and get a characteristic golden crust. Fragrant garlic is added to enhance the flavor and give the dish a spicy kick. Over time, thanks to its unique taste and simplicity in preparation, Baked Peppers with Garlic Odessa-Style became a popular dish not only among the locals but also among the city's visitors. It has become an essential part of Odessa's culinary tradition, reflecting the authentic taste and warmth of the seaside. Today, this dish is one of the symbols of Odessa's gastronomy, attracting those eager to explore the amazing flavors of this remarkable region.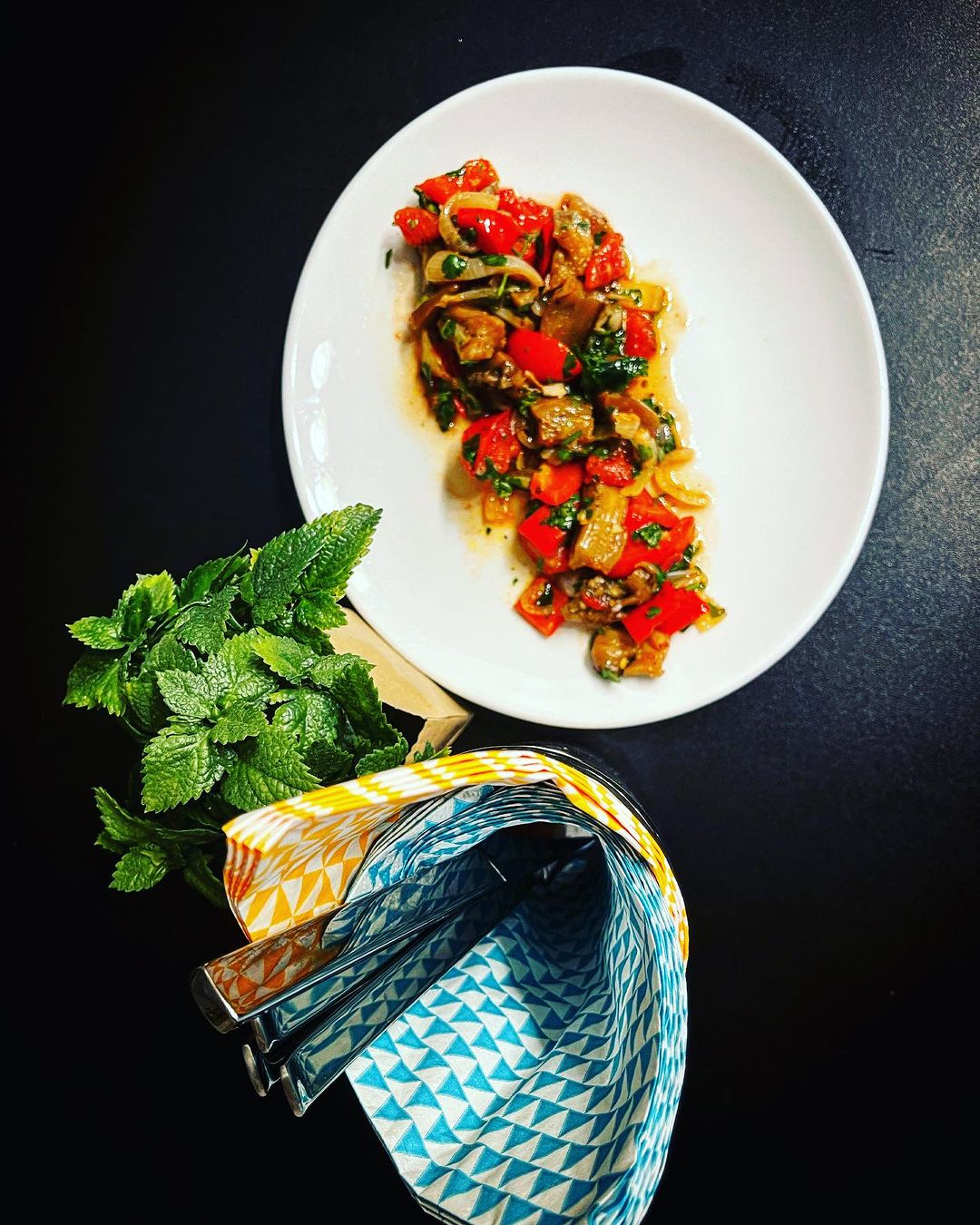 Cooking Secret:
Baked peppers with garlic in our restaurant are prepared with special attention to every detail. We carefully select only fresh and ripe peppers, baking them until tender. The addition of aromatic garlic gives the dish a spicy taste and a unique mood.
Perfect Flavor Combination: Tender peppers, baked to a golden crust, combine with aromatic garlic, creating an amazing gastronomic blend. Baked peppers with garlic are not just a dish; it's a true culinary masterpiece that will make you come back for more.
Invitation:
We invite you to try this delightful dish at our restaurant. Baked Peppers with Garlic Odessa-Style is fire in every bite, and we guarantee that every tasty bite will bring you real pleasure. We await you for a genuine culinary journey!